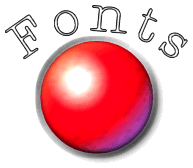 Here are some fonts I like. My selections are purely arbitrary. I update this page when I find enough new fonts that have something different or creative about them that are not to my knowledge restricted as far as distribution is concerned. So, don't expect updates every other day, just cool fonts.


To download the font of your choice, click on the image.
All Fonts Shown are in 20 pt. and are zipped. If you need software to unzip them, click here for a free program.
All Dingbats Shown are in 36 pt.
Dingbats
Alien Twits

Wizard of Oz
Teddios

SF Balloons
Software for Font Addicts
The Font Thing Version 0.80 (beta 2)
The Font Thing is a freeware program for managing TrueType fonts in Windows 95, Windows 98 and Windows NT 4.0.
Arjan Mels' Font Viewer
This program is like Character Map that comes with Windows® 95/98 except it is a lot better. It can display character sets, and it can also show you almost every font property.
ScanFont
The only font creation tool I've ever seen that was easy to use.




Disclaimer: As far as I know, all of the fonts pictured on this page are free/shareware. Please understand, however, that I cannot be sure where I got all of my fonts. Most of them I got off the Web, so I am simply assuming the ones that had no documentation with them are free. If you know that any of the fonts that I am distributing are commercial, please Contact Me immediately! I will NOT intentionally distribute copyrighted files, so please be understanding.